Evolving Textures from High Level Descriptions: Gray with an Accent Color
February 7, 2011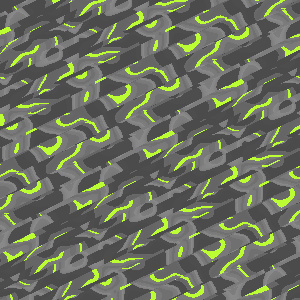 I have been doing further experiments with creating "random" textures using a fitness function as a high level description of the desired class of textures. Additonal description and examples are available on a new page tying together several of these recent experiments:
goal-oriented texture synthesis
. A paper describing these newer experiments will appear in the proceedings of
evoMusArt 2011
: Craig Reynolds. 2011. Evolving Textures from High Level Descriptions: Gray with an Accent Color. In C. Di Chio et al. (Eds.): evoApplications 2011 (Applications of Evolutionary Computation). LNCS Springer.
Like the
GrayTheHardWay
fitness function used below (see
Oct 23
, etc.) these textures were evolved using multiple criteria multiplied together. The intent was to find "a gray texture with a small amount of saturated accent color."